Sunflower Development staff have always had an affinity for the Brookside neighborhood and taking bold steps to envision plans that can help revitalize blighted areas in the region. That's why when we began talks on purchasing a large piece of land on the outskirts of Brookside we knew this land had a lot of potential to help push more development towards Troost and improve the area.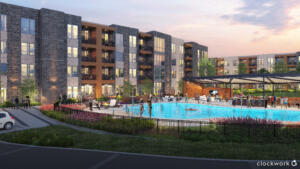 Other developers like Butch Rigby and John Hoffman have done a tremendous job at stabilizing the 63rd corridor, proving (re)development can successfully occur and providing great amenities which enhance the neighborhoods from downtown Brookside toward Troost. Sunflower Development Group found a great partner is Platform Ventures and together we are turning our shared vision into a reality with Brookside Commons.
Brookside Commons will be a new construction 210 unit Class A multi-family development that will include a number of amenities that residents of all ages can enjoy. Amenities include a resort-style pool, dog park, green space and covered structured parking along with surface parking. We feel this development will attract a mix of local college students, young professions and also long time residents that love the charm of Brookside, but no long want the burden of owning a house.
Read the entire store at KC Biz Journal